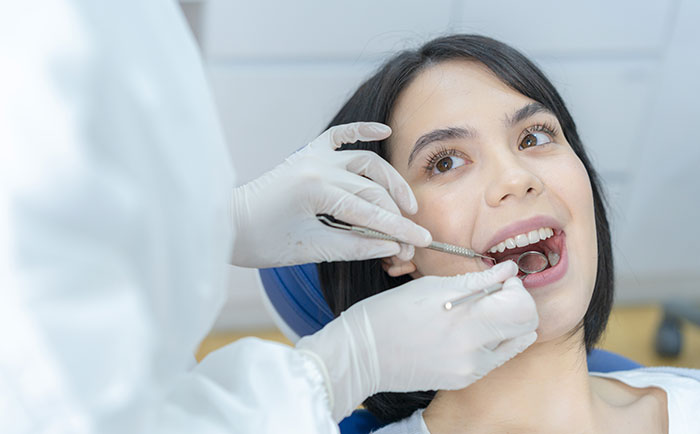 Gum disease can upset one's oral health to a massive extent. They affect the aesthetics of the patient's smile by causing decay to the gum tissues. Also, the infection can spread from the gums to the nearby teeth and other tissues. If not treated at the earlier stages, getting gum disease under control can become too complicated and even cost you a tooth or two.
What causes gum disease?
The leading cause of gum disease is the accumulated plaque and tartar on the surface of the teeth. They release toxic and harmful acids that end up decaying the soft gum tissues. Over time, the infection increases in severity.
Improper or irregular brushing of teeth can lead to the excessive growth of microbes in the mouth. They can gradually cause gum disease over time.
External trauma to the mouth can cause cuts or bruises that expose the inner tissues to the microbes in the mouth. This can cause an infection of the gums.
Root canal infection is caused when the pulp of a tooth contracts an infection. If it isn't treated in the earlier stages, the infection can spread to the gums as well.
Systemic diseases such as diabetes and high blood pressure can contribute to gum disease. 
Symptoms
Bleeding and oozing of pus from the gums
Decay of tissues
Persistent bad breath
Jawbone deterioration
Loosening of the teeth from the sockets
Severe pain white biting and chewing food
How can gum disease be treated?
Dentists always recommend their patients get gum disease such as gingivitis and periodontitis treated at the earliest to avoid complications in the future. However, once you contract periodontitis, the disease can only be treated and controlled, but not healed completely. There are a few treatment methods by which you can get the damage caused by gum disease reversed.
To have a consultation with our dentists, request an appointment online or
call us at (262) 634-8662, and we will be happy to help.