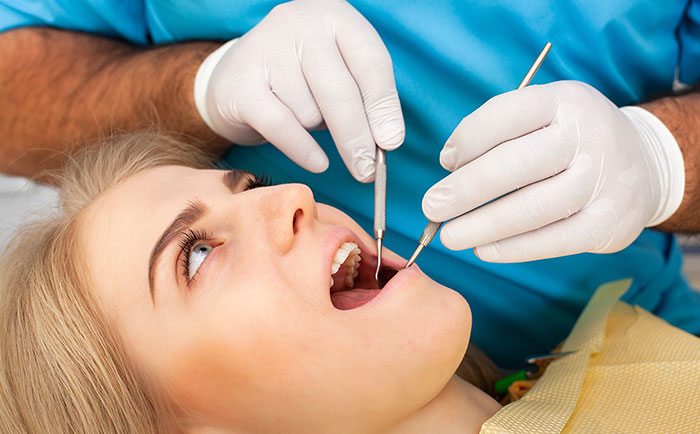 Teeth extractions become necessary mostly when the patient has sustained an external injury or has a severely decayed tooth. As dentists, we will consider every possible way to avoid extracting a tooth as we understand that the natural tissues of the body are better than prosthetic restorations in every way. But, when no treatment method proves to be effective, an extraction may become inevitable.
When would an extraction be required?
When a patient has sustained an external injury to the mouth, it could result in a broken or chipped tooth. We will try to restore such a tooth using some of our ceramic restorations, such as crowns or veneers. But, when this doesn't yield the desired results, the tooth may have to be extracted.
Cavities can put a tooth at a considerable risk of failing. If left untreated for a long time, the microbes in cavities could gain entry into the deeper layers of the tooth and even cause root canal infection. When a tooth is so badly decayed that it can't be restored using fillings or inlays, the best way to prevent the infection from spreading is by extracting the tooth.
Impacted wisdom teeth tend to get stuck in between the gums and jawbone socket just while emerging. This is a highly painful condition and can even give rise to infections in the impacted region. Hence, dentists suggest extracting impacted wisdom teeth.
Sometimes, teeth may have to be extracted during orthodontic treatments to make space for the remaining teeth to move to their right alignments.
How is an extraction done?
During the visit to our dental office, we will conduct a visual screening of the tooth. We will consider every possible means of restoring the tooth using procedures such as veneers, crowns, composite bonding, tooth fillings, etc. But, if no means can be used to restore the tooth, we will prepare you for the extraction.
The teeth will be cleaned and disinfected. Since the procedure could be painful, local anesthesia will be given to the gums to avoid discomfort and pain in the mouth during the procedure. This takes away the sensation in the oral region, meaning you wouldn't be able to feel your mouth for a brief period. This is absolutely safe and will not cause any adverse effects on your health.
Your dentist will suggest medication to facilitate optimum healing of the wound, and you will be able to resume regular oral functions in a few days.
To have a consultation with our dentists, request an appointment online or
call us at (262) 634-8662, and we will be happy to help.