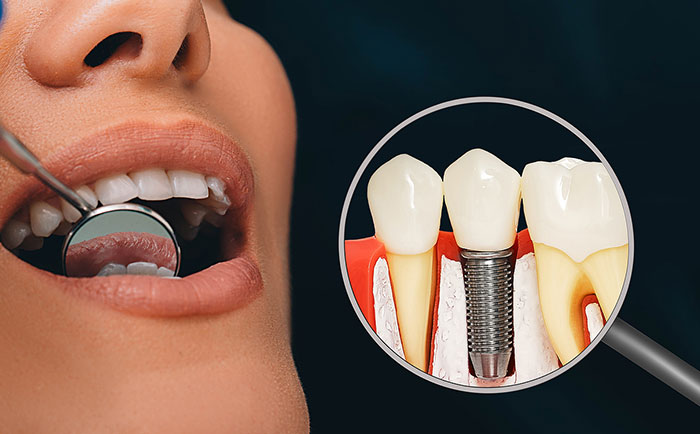 Dental implants are prosthetic teeth that are used to replace missing natural teeth. Implants are made up of three parts, the first being a Titanium screw that is implanted into the jawbone, the second being a tooth colored, ceramic crown and the third being a specialized part called a custom abutment that acts as the connector piece between the screw and the crown. All together, the screw, custom abutment and the crown make up the dental implant and act as the replacement tooth.
Why should you choose dental implants?
Implants are known for their superior strength and stability.
They are highly recommended by dentists as they not only restore the aesthetics of the smile but also improve the functionality of the mouth.
Patients receiving dental implants will be able to bite and chew food as they used to earlier.
The patient's phonetics will be restored to normal.
Since the metal screw is implanted into the jawbone, it prevents the drifting of the neighboring teeth.
The metal screw has grooves on its surface that helps to hold the jawbone intact and prevent its deterioration.
The ceramic crown used to fabricate the replacement tooth is made from dental-grade material. It is highly durable and resistant to staining.
Implants are long-lasting.
The crown can be customized in terms of color, texture, translucency, and contour to look precisely like the adjoining natural teeth.
What is the procedure involved?
During the initial consultation, the dentist will thoroughly diagnose your mouth to check for factors that could influence the procedure. Some of them are jawbone health, jawbone size, the overall state of health, gum diseases, spacing available to place the implant, drifting of teeth, etc. Once the candidacy is determined, you will be prepared for the procedure.
To have a consultation with our dentists, request an appointment online or
call us at (262) 217-7764, and we will be happy to help!