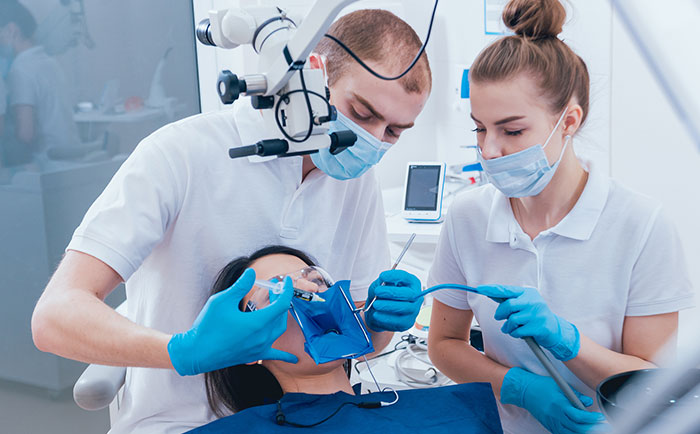 Every tooth has a nerve inside of it that lives in the Root Canal space. The nerve called the dental pulp is composed of blood vessels and nerves that give the tooth nourishment and sensation. The dental pulp can get infected when the microbes in the mouth enter the root canal through cavities, cracks, or the tooth roots. This leads to a severe dental condition called the root canal infection, which can put your entire oral health at risk.
A specialized branch of dentistry called endodontics deals with the diagnosis and treatment of root canal infection. Endodontists go through a few extra years of specialization after they complete dental school. At DeRose Dental, the dentists perform a root canal procedure for patients of records.
What are the symptoms?
Bleeding and discharge of the pus from the gums
Redness and swelling
The infected tooth may appear duller than the other teeth
Pain while biting and chewing food
Deeper gum pockets that lead to the accumulation of microbes
Loosening of the tooth from its socket due to jawbone deterioration
Severe bad breath
What is the solution?
The best way to treat a root canal infection is by removing the decayed dental pulp. A root canal therapy is known to be the last resort option to treat and save a severely infected tooth from being extracted. The dentist disinfects the tooth and ensures it doesn't get reinfected. Also, it will be restored so that it doesn't crack or crumble.
How is root canal therapy performed?
The dentist prepares you for the procedure by thoroughly cleaning the teeth and placing a rubber dam over them. Local anesthesia is administered so that you do not experience pain and discomfort during the procedure. The dentist makes a small hole on the tooth using highly precise dental instruments.
Dental instruments will be used to remove the infected pulp from the tooth. The microbes and debris will be washed away using a jet of water. The dentist places a small amount of antibacterial medication in the tooth so that the reinfection is prevented. A crown will be custom-fabricated to fit on the tooth. It will be bonded with the help of dental adhesives so that the treated tooth doesn't crack or crumble under high forces.
To have a consultation with our dentists, request an appointment online or
call us at (262) 217-7764, and we will be happy to help.