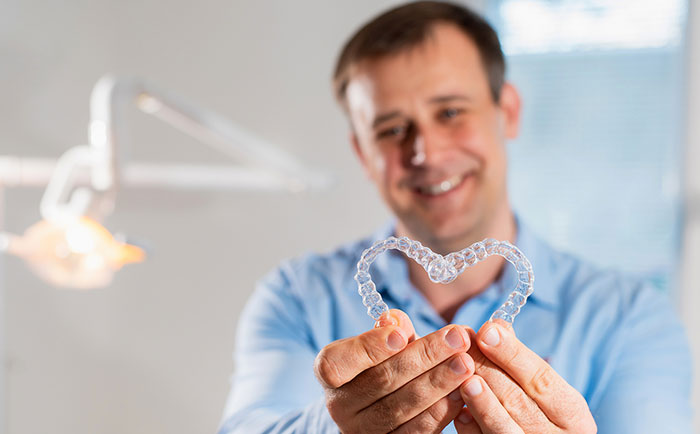 Millions of Americans reach out to dentists every year to get their malocclusion corrected. This shows how vital perfectly aligned teeth are when it comes to putting up a confident smile. Malocclusion affects not only your facial aesthetics but also your oral health. Hence, we recommend our patients get malocclusion treated at the earliest so that it doesn't have a more severe effect on you later.
Common orthodontic appliances
Dental braces have been the go-to solution to treat a malocclusion for several years now. Though braces are highly effective, they have quite a few drawbacks that brought up the need for a better and more advanced orthodontic aligner. ClearCorrect™ is a removable orthodontic appliance that is made from a clear plastic material. When patients put the aligners on, it will hardly be visible due to its transparent nature. Also, it has several advantages over dental braces, making it the most sought-after solution to treat malocclusion in recent years.
Treatment procedure
The dentist will conduct a thorough diagnosis of the mouth to understand the type and severity of the malocclusion. A bite test will be conducted, and x-rays may be taken. ClearCorrect™ makes use of advanced software to scan the teeth and create a highly-detailed digital mold. The dentist can view the teeth up close and analyze the minute details using these scanned images. The same will be used to fabricate aligners in a dental laboratory.
During the second appointment, the dentist will hand you the aligners and take you through their usage. Though the aligners are removable, you shouldn't take them off frequently. You should wear them for at least 22 hours a day, every day. This allows the aligner to move the teeth to their desired positions within the expected duration of treatment. You can remove the aligners while eating food and brushing the teeth. The dentist will provide you with a new set of aligners once every two weeks. Every time you start using a new set of aligners, they may feel a tad uncomfortable in your mouth. But, the feeling will wear off within a few days.
Why should you choose ClearCorrect™?
Since the aligners are made from a dental-grade plastic material, they are biocompatible and will not irritate the gums.
They are discreet and can't be spotted easily when you smile or talk.
ClearCorrect™ is entirely metal-free. It doesn't have any sharp components, such as brackets or wires that can injure the soft tissues of your mouth.
The aligners can be removed when you have any important meeting, a presentation, a date, or any other occasion. However, they have to be worn for at least 22 hours a day on regular days.
You can eat any food you wish to during the treatment phase. This luxury isn't available in the case of traditional braces as sticky food could get stuck between the wires, or hard foods could damage them.
To have a consultation with our dentists, request an appointment online or
call us at (262) 634-8662, and we will be happy to help.